Get Your Perfect Fit in a Bra
Figure out your size with our easy 3-step measurement, so that you can finally feel comfortable in a fitted bra.

The size vary from different bra models. There are different size charts in every bras' image. Scroll down the images and you will find one.
Before that, to ensure you pick up the right size, please follow the below steps to find your own size.
Step 1: Bust Measurement
Measure around the fullest part of your breasts, over your nipple area. While holding both ends of the tape with one hand at the side of your breast, use your free hand to press the measuring tape in between your breasts to your chest. This will provide a more accurate bust size.
Step 2: Rib Cage Measurement
Measure your chest below your breasts - make sure the tape is around your back and under your armpits. Check in the mirror to ensure the measuring tape is parallel to the floor along your back. The tape should be snug around your body without any fingers underneath the tape.
Step 3: Do The Math
Subtract the rib cage measurement from the bust size measurement. The difference represents your letter cup size.(Around 1 in.=A, 2 in.=B, 3 in.=C, 4 in.=D, 5 in.=E, 6 in=F)
It's not just a matter of comfort – using the correct size breast shield while pumping is important for efficiency, too.
The following information will help you choose the right size breast shield for your needs.
What is a Breast Pump Flange?
The flange is the part of the breast pump that comes in contact with your body when placed onto the breast and nipple, forming a vacuum seal with the areola. It's shaped like a funnel. The flange draws your nipple into the tunnel of the pump where milk is extracted.
How to Find the Right Flange Size
1. Determine the diameter of your nipple. The standard flange size is often 24 mm, but you may need to select smaller or larger flanges based on your measurement.
2. Compare the diameter of your nipple to the available options.
Nipple-to-Flange Size Guide
There are five main pump flange sizes (but keep in mind not all are offered with every breast pump, so make sure to check your manual for what is included with your pump). Also, be sure to measure both of your breasts in case you need two different sizes.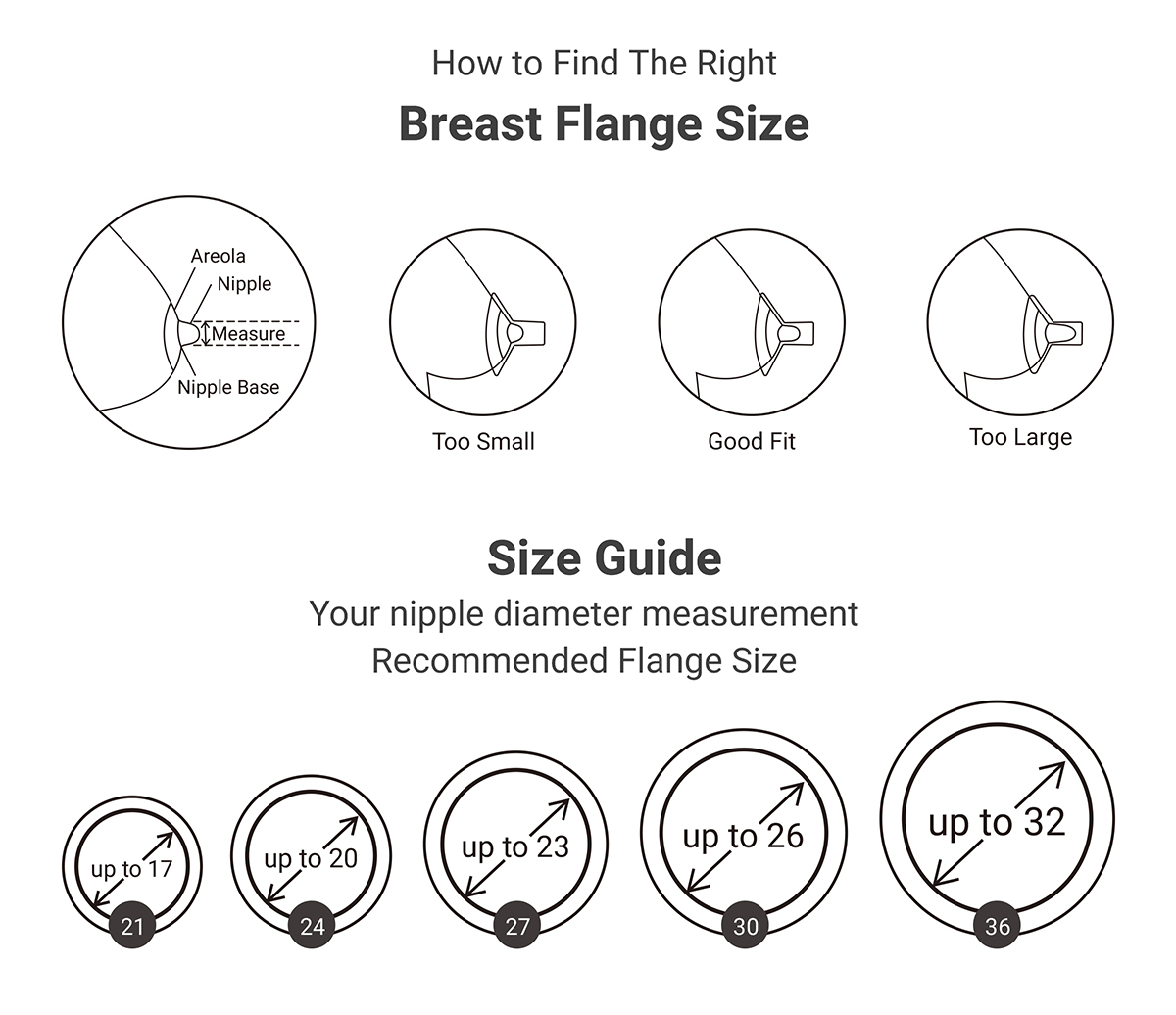 Find the Insert Here:17mm/19mm/21mm
Find the 27mm Flange Here: 27mm Shield
Will My Flange Size Change?

Possibly! Your breasts may change between the third trimester and after giving birth. Also, your breasts may change through your breast pumping journey, so it's important to regularly check your flange size.